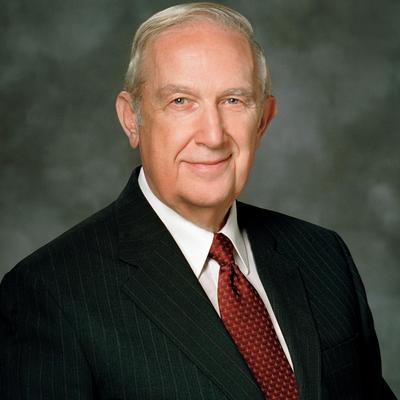 Elder Richard G. Scott of the Quorum of the Twelve Apostles of The Church of Jesus Christ of Latter-day Saints died Tuesday at 1:45 p.m. MDT from causes incident to age, while surrounded by his family at his home in Salt Lake City. He was 86.
Elder Scott was sustained as an apostle on October 1, 1988. He was called as a member of the First Quorum of the Seventy on April 2, 1977, and served as a member of the presidency of that quorum from October 1983 until he was called as an apostle in 1988. "Elder Scott was able, very successfully, to keep his eye on eternity," said Elder D. Todd Christofferson of the Quorum of the Twelve Apostles, who served as a young missionary under Elder Richard G. Scott. "His messages were filled with hope. And he was unapologetic about repentance and the Atonement because he knew that that's where hope came from or what one could hope for as a consequence of true, full repentance and the effect of the Atonement, the grace of Jesus Christ, in one's life."
As with the apostles in New Testament times, Latter-day Saint apostles are called to be special witnesses of Jesus Christ. Elder Scott was one of 15 men who help oversee the growth and development of the global Church, which numbers more than 15 million members. Elder Scott taught, "There are few things in life that bring as much joy as the joy that comes from assisting another improve his or her life." "I don't go anywhere, especially in Latin America, where he served for so long and in so many places — I don't go anywhere there that I don't see his footprints, where I don't meet somebody who hasn't been influenced by him in some way," Elder Christofferson said. Richard Gordon Scott was born November 7, 1928, in Pocatello, Idaho, to Kenneth Leroy and Mary Whittle Scott. He served a full-time mission to Uruguay and presided over the Argentina North Mission in Córdoba, Argentina, from 1965 to 1969. He graduated from George Washington University as a mechanical engineer and completed post-graduate work in nuclear engineering at Oak Ridge, Tennessee. From 1953 to 1965 Elder Scott served on the staff of Admiral Hyman Rickover, directing the development of nuclear fuel for a wide variety of naval and land-based power plants. He also worked as a private consultant for nuclear power companies. Elder Scott received an honorary doctor of Christian service degree from Brigham Young University in 2008.
Elder Scott was preceded in death by his wife, Jeanene, who passed away on May 15, 1995. He was well known to many members of the Church for the love he expressed for his wife. They are the parents of seven children. "He'll be remembered as a tireless worker, a tireless servant, and a friend of the Lord who wore out his life in the Lord's cause and was happy to do it," Elder Christofferson said. "I think he'll always be remembered as someone who conveyed hope." Funeral Services Funeral services for Elder Scott will be held in the Tabernacle on Temple Square on Monday, September 28, 2015, at 11:00 a.m. MDT.
The funeral will be open to the public ages 8 and older. The Temple Square gates and the Tabernacle doors will open at 9:30 a.m. Those wishing to attend should be in their seats by 10:30 a.m. Overflow seating will be available in the Assembly Hall on Temple Square. The Church campus buildings will be closed at 10:30 a.m. and will reopen following the funeral at 1:00 p.m. The funeral services will be broadcast live via MormonNewsroom.org, LDS.org (English, Spanish and Portuguese), KSL TV 5.2, BYUtv, BYUtv Global, KBYUtv Eleven, BYUtv International, Mormon Channel, Canal Mormón (Spanish) and on the Church satellite system. In addition, audio broadcasts will air on KSL radio, BYU Classical 89 and BYU Radio. A private burial service will take place at Wasatch Lawn Memorial Park in Salt Lake City following the funeral.
There will be no public viewing, but expressions of sympathy can be posted on Elder Scott's official Facebook page or emailed to condolences@ldschurch.org.