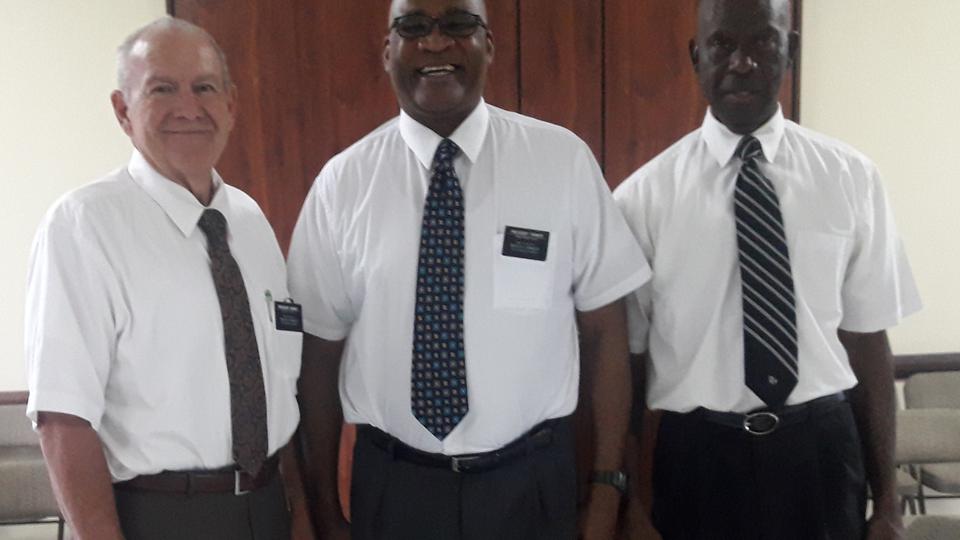 On November 10th 2018 the Jamaica Kingston Mission Presidency of The Church of Jesus Christ of Latter-day Saints became complete with the calling and setting apart of Ransford Alvin McLeod as the second counselor.
The Jamaica Kingston Mission Presidency is President Fred A. Parker III
1st Counselor President Terry A. Barney
2nd Counselor President Ransford A. McLeod.
The Mission presidency comes with a wide range of experience and talents.
President Fred A. Parker received a bachelor's degree in public communication from San Francisco State University in 1987. He began his career in operations for the United States Army and later retired from the Army as a Sergeant Major. After his retirement from the military, he worked for the Atlanta Housing Authority in the United States as the information technology solutions manager.
President Parker has served in numerous Church callings including primary teacher, ward and branch mission leader, elders quorum president, branch president, bishop, stake president's counselor, stake president and member of the Sixth Quorum of the Seventy of The Church of Jesus Christ of Latter-day Saints. President Parker was born in Atlanta, Georgia on January 22, 1961. He married Lina O. Malolo in February 1983. They are the parents of five children. Elder and Sister Parker resided in Union City, Georgia until their call to serve the people of Jamaica for three years starting in June of 2018.
President Barney has served in numerous church callings, such as in four separate Bishoprics, as a High Priests Group Leader, Elders Quorum President, Young Men's President and Stake Missionary. President Barney retired in 2012 from CenturyLink Communication as a Communications Engineer with 39 years of service. He and his wife Susan, RN have served in two other missions, both in West Africa; The Sierra Leone Freetown Mission and The Ghana Kumasi Mission. President Barney, as a young man, also served as a missionary in the Ohio Mission in the United States.
President Barney was born in Salt Lake City Utah on February 4, 1951. He married his wife Susan in the Manti Temple of The Church of Jesus Christ of Latter-day Saints on September 8, 1973. Together they have 8 children, 36 grandchildren and 3 great-grandchildren. In his own words, "Family is everything".
President McLeod was baptized 34 years ago after 10 years of activity in the church. During that period he was an active missionary, introducing the gospel to several family members that were baptized, including his grandmother. He was baptized in July of 1984 and in October of the same year, he was Ordained an Elder and Set apart as the Branch President where he served for over 13 years. He has been a faithful servant of the Lord Jesus Christ ever since that time.
Over the years he has held several positions of leadership including 1st Counselor in two District Presidencies, District Councilman, Branch President, Elders Quorum President, Sunday School President, and Seminary and Institute Instructor.
President McLeod has been self-employed in a successful television, radio, and electronics repair business for 45 years.
President McLeod and his wife Eulalee were married in 1986 in Jamaica and sealed in the Salt Lake Temple in 1996. Together they have 3 children, 2 boys and a daughter and 5 grandchildren. Both sons have served honorable missions and their daughter was married in the Temple.