On May 30, 2015 the Mandeville, Jamaica Family History Centre hosted a RootsTech Family History Day. Approximately 40 church members from congregations in  the Hopeton, Mandeville, Junction and Santa Cruz areas participated in this activity.
Family History or genealogy work is of great importance to members of the Church of Jesus Christ of Latter-day Saints as members cherish the opportunity to link their families across generations. 
The objective of the RootsTech Family History Day was to primarily "Celebrate Families Across Generations". In meeting this objective the activty helped members to set up accounts on the church's free online geneaology database www.familysearch.org. This website is open to anyone who is seeking to identify their ancestors. It allows persons to search through millions of international genealogy birth, christening, marriage and death records.  It also allows persons to create their family tree.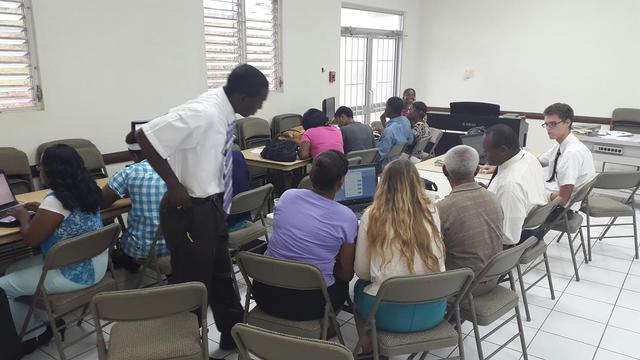 Of all attendees at this event, about 10 participants received LDS accounts or Family search accounts for the first time. By the end of the day, all participants added family members up to their parents and most participants added family members up to their grandparents. Participants felt accomplished and expressed a desire to continue the work they started.
The Family History Centres are open to the public and all can benefit from the blessings of connecting to their families and learning about their heritage. Persons interested in learning more about this service can contact the unit of the Church of Jesus Christ of Latter-day Saints in their area.