Youths from the Church of Jesus Christ of Latter- day Saints from across the parishes of Kingston, St. Andrew and St. Catherine got together to host the play "Bring back Sandra". The play was geared towards getting funds for their annual young men and young women camp.
The plot was a culturally relevant production about a young lady by the name of Sandra who got kidnapped by Shane a bus conductor. The play was a riveting plot about how Sandra's friends who were members of the Church of Jesus Christ of Latter-day Saints were able to help support Sandra's mother and help find Sandra. Over 25 youths participated in the presentation.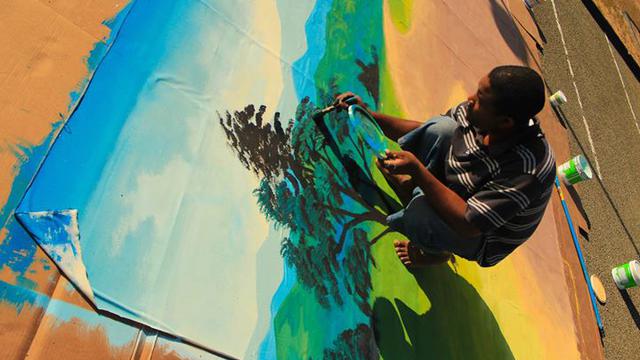 The beautiful back drop which provided a wonderful scenery for the play was painted and done by Shun Lawton, the Bishop of one the Spanish Town congregation.There were over 100 attendees, who came to support the youths. Both friends, family, church members and investigators. One investigator, Gabrielle Harriot, stated that the play was good and that she was surprised at the friendliness of the people who attended. She remarked that they were very welcoming.  Donald Walker, a member from the Portmore congregation stated that he was impressed and stated that, "it was one of the best plays that I have ever attended."
Several of the youths in sharing their experience of the preparation done for the production explained that it was a lot of hard work. They explained that there were a lot of rehearsals and that it was a challenge for some of the participants to get their lines. There was an overwhelming sense of accomplishment for the youths who participated. Many were relieved that as remarked that, "they pulled it off." Despite the challenges faced in rehearsing and remembering lines the youths overall were grateful as they were able to form good friendships. The production was an opportunity for the youth to both develop and display their various talents.